See a mouse in your house or kitchen? Then learn how to get rid of mice fast because chances are the one you spot is not alone.
Invasion! You've yet to consider that you need some heavy duty rodent control.
But, you do hear noises coming from behind the walls. Crunching and gnawing sounds. The flour bag in the pantry looks like someone has been spreading white powder all over the shelves. The dog's food disappears overnight. It can't be Fido. He's been taking up half of the bed while you sleep. Then one evening while you and your fuzzy buddy are sitting there watching a movie, the problem comes into clear view. A tiny mouse comes scurrying across the floor.
Two things you can do – call an exterminator or deal with it yourself to eliminate the interloper.
Get An Exterminator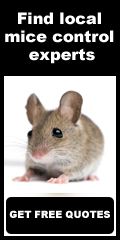 One mouse is just the tip of the iceberg. An exterminator is well-trained to go to places where you'd never imagine. Also, a pro will do things much quicker than you can. Delays in tamping-down the varmints merely mean you're going to need to ultimately repair even more damage.
You're not inviting a rodent control expert over for some tea and crumpets. However, there are things you need to prepare before the pro knocks at the door with his bag o' tricks.
Give your home a serious vacuuming. You want to suck-up any food particles, like those pieces of popcorn you threw in fear when the mouse scared you and the mutt during the aforementioned flick on your TV.
Everything that's cluttered around in your rooms needs to be put in its place. Last thing you want is the rodent control person to trip over your crap.
Push every piece of your furniture away from your walls. The expert needs to have free access everywhere.
Box-up the stuff in your cabinets and pantry. Move those things out-of-sight, preferably to the trunk of your car.
Tell everyone who lives under your roof, including the pets, to bug-out for a few hours once the professional arrives.
This last part is especially important. The rodent control individual might use some industrial strength toxins to strangle the invaders. Last thing you want to do is make the cure worse than the disease by unintentionally poisoning your dog, cat, gerbil or pet tarantula. And if a mouse or rodent succumbs to the bad stuff, you want to make sure you properly remove the carcass so it won't become a plaything for your smaller friends.
Any bodies left behind after the professional releases the magic will need to be disposed of. Get some rubber dishwashing gloves and a two-gallon zip-seal plastic bag. After you make a haul, toss the sealed bag in a garbage can outside and disinfect the gloves.
DIY-Not?
So, you've decided to handle the issue all by your little ol' lonesome. You want to spread the joy throughout the living quarters and in the attic. Units of destruction will need to be placed near the walls as that's what the rodents hug when they pace from place-to-place.
Here are some devices that you can try during the battle of the bane of your existence.
Look into some mouse traps. There are snap traps, catch traps, electric zap traps and glue boards. By the way, rodents don't like cheese. They do have a hankering for peanut butter.
Mice hate mint. Grow some of these things around your home's foundation. Pot a couple of plants and leave them around your kitchen. Buy some peppermint extract and spritz it about.
Go high-tech with an ultrasonic pest repeller. Make sure it's one that automatically and regularly changes frequencies as mice can adapt to the music they play. Also, check to see if the high-pitched sounds don't mess with your pets.
Steer clear of toxins if you have kids or small animals in your house. Actually, try not to use 'em at all. Not only do they have the potential of murdering your children, but if a rodent takes it deeply behind the walls, when it dies you'll have another problem. The stink of decaying mouse flesh.
Prevention
It's really quite simple.
Fill cracks and fix leaks.
Place a few caps of ammonia along their traffic path. To mice it smells like pee from a predator.
Don't let the clutter pile-up.
Seal away all food in heavy plastic bags or sealed containers.
Keep your place clean.
That's at the pinnacle of preventing any future invasions. If cleanliness is next to godliness, then slobbery is the devil's work. Any rodent control guru, with or without a halo, will tell you that.
Additional Tips To Get Rid Of Mice In The House