As a mother, doula, childbirth educator and breastfeeding counselor, the number one breastfeeding question I get, is "How can I tell if I am making enough milk" or "Is my baby getting enough milk?"
According to the Center for Disease Control's 2012 Breastfeeding Report Card, about 75% of women in the U.S.A set out to breastfeed after the birth of their child. However, by six months of age that number drops to less than 50% and drops even lower to just over 25% by the time their babies are 12 months of age.
There are many reasons that women quit or just aren't successful at breastfeeding, but it is rarely about the amount of milk they make, though they mistakenly may think so. First, let's address how a new (or experienced) mum can tell if her little one is getting enough milk.
How To Tell If A Baby Is Getting Enough Milk
The primary indicator is what you find in your baby's diaper. For the first five days of life your baby should have one wet diaper for each day of life and one dirty diaper for each day of life. So a one day old baby should have one wet diaper and one dirty diaper and a four day old baby should have about four wet and about four dirty diapers. After five days, on average, your little one should be producing about 5-6 wet diapers a day and about 2-4 dirty diapers a day. It is really the wet diapers that count the most, so if your baby is not pooping this much or is only pooping every 2 or three days, if all else appears normal, he or she is probably fine. We all poop at different rates.
Another sign, that you are making enough milk is that your baby seems satisfied after breastfeeding. If a baby is allowed to breastfeed uninterrupted, detach on his own, and is given the opportunity to nurse from both sides before he is done, than he is probably feeling full enough to stop. However, if your baby seems to want to nurse all of the time, never pulls off on her own, and never seems satisfied it doesn't necessarily mean that she is still hungry. Your little one may be sick, teething, have trapped gas, be in the midst of a growth spurt or may just have a more demanding personality.
The final primary indicator of whether or not you are making enough milk is your baby's weight gain. Some breastfed babies lose a little weight within the first few days of birth, and then start gaining. A baby should be back to birth weight by about two weeks of age and should gain about 6-8oz. a week or about 3 lbs a month. Not every baby gains this rapidly. Some gain less, some gain more, but the important thing to look for is a gain. A loss after two or three weeks is rare. If your baby is on the low end of the weight spectrum for his age (less than 50%), that is okay. Many of those growth charts are based on the weights of formula fed babies who gain much more rapidly than breastfed babies for a variety of reasons. If your baby is losing weight and not meeting milestones within a few months of their expected date, it may be time to discuss this with your pediatrician.
Other Reasons You May Fear Your Baby Isn't Getting Enough Milk
I have been working with new parents for a few years now and there are several other reasons moms and dads may fear that their babies aren't getting enough milk outside of the primary indicators I have already outlined. These include but are not limited to:
Frequency of nursing sessions
Length of nursing sessions
Increased evening nursing episodes
A fussy period in the early evening where baby just can't stop nursing
General fussiness that can't be eased except by the breast
Mom's breasts no longer feel full
Mom's breasts no longer leak
Mom no longer feels a let-down sensation or has never felt a let-down sensation
Mom gets very little when she pumps her milk
Baby accepts a bottle of formula even after breastfeeding
Let me address these concerns.
Frequency And Length of Nursing Sessions
The frequency with which a baby feeds and the length of a nursing session, depends a lot on your child's age and personality. Newborns are very ineffective nursers. Breastfeeding is a skill they have to learn. While it is true, babies are born innately knowing how to breastfeed, problems can crop up with latching and the ability to suck and there is a curve in the learning process. The older and stronger your baby gets, the more efficient they will be at removing milk from the breast. This means that your baby may take a long time to breastfeed at first, and the time may get shorter as they age. The makeup of breastmilk makes it much more easily digested than formula. This is why your breastfed baby may feel hungry just a few hours from his last feeding, while his formula-fed counterpart may be full a while longer. As babies grow and their ability to effectively take in breastmilk improves, their feedings may space out more and they may nurse less often and for shorter periods of time.
Another important consideration here is your baby's feeding personality. Much like us, each baby eats differently from other babies of a similar age. Babies generally fall into two groups—snackers and feasters. Snackers like to eat for just a few minutes at a time and eat frequently, sometimes as much as a five minutes every thirty minutes. Feasters on the other hand, may eat for thirty or forty-five minutes or more every three hours or so. Just keep in mind that you never want babies younger than three months to go more than three hours during the day and more than four or five hours at night between nursing episodes as they become dehydrated very easily.
Fussiness And Inability To Soothe
Most babies have a fussy period and for many, this period falls in the evening hours between 5 p.m. and 9 p.m. During this time period, it may seem that the only things that will soothe your baby are holding her or nursing her. If your baby wants to nurse continuously at this time, let her. This does not mean she is actually feeding, although she may be. Many babies suckle for comfort and do not take in food while they are doing this. If your breast does not calm her at this time, walk with her, bounce her, dance with her or wear her in a baby carrier while doing something rhythmic around the house or taking a short walk. Many babies will have their longest episode of successive sleep at this time, so just be patient and allow her that fussy time. It is perfectly okay for this to happen. Parents who are unaware that this can be a normal part of a baby's day often try to supplement with formula at this time. Often, especially in very young babies, the baby will take the bottle, even after being satisfied with the breast when in reality babies are just producing a biological response. I simply can't explain it any better than this:
"When the bottle goes in the baby's mouth, the mouth fills with milk, the baby is obligated to swallow and the action of swallowing initiates another suck. The suck again fills the mouth and the cycle repeats, giving an appearance of the baby "gulping the bottle down hungrily".

This of course only contributes to mom and dad's fear that the baby wasn't getting enough at the breast and they keep offering more and more bottles (understandably). Which then causes a true low milk supply. Often the baby falls asleep peacefully after this episode which also reinforces to the parents that the bottle was just what the baby needed. What has really happened is the baby has by coincidence come to the natural conclusion of the fussy spell (most parents give the bottle as a last resort which means the fussiness has been going on for awhile) and/or the baby has withdrawn because "gulping" down the bottle was actually stressful and NOT what the baby wanted but she could not stop the flow, so exhausted, she falls asleep. So don't offer bottles during any fussy time."
Fullness, Leaking, Let-Down And Pumping
When a new mom's milk comes in, her breast often feels very hard and full. This is not what a full breast feels like. This is what a breast with an overabundance of milk feels like. This means that your baby hasn't quite told your body how much milk he needs. This is often the period when many women experience frequent leaking and a strong let-down sensation. Over time, by nursing, your body will begin to adjust milk production so that you make as much as your baby needs and not too much more. When this happens, your breasts will feel softer and less full, you may leak less or stop leaking altogether. You may no longer feel a let-down sensation, or feel it less strongly and if you are pumping, your output may decrease. None of these things mean you actually have less milk. It just means that your body has adjusted according to the messages your baby has been sending it by the frequency and length of his feedings and you no longer have more than enough milk.
Your baby's nursing sessions are a major factor in your body's milk production levels. You may notice at some point that your baby is nursing more frequently and for longer periods and she may do this for a very short time and seem fussy during this period. This is usually a growth spurt and it is her way of telling your body that she is going to soon require more milk. This does not mean you need to supplement. In fact, doing so will not allow her to send this very important message and your milk supply will not increase to keep up with your baby's growing needs.
On average a mom can expect to pump about 1-2 ounces of milk per pumping session.  If you were pumping more than this it was probably in the early days of oversupply, so you should not be alarmed.  Pumping stimulates your body in a different way than breastfeeding your baby directly does, so the amount that you pump really has no bearing on the amount your baby gets while breastfeeding.
Don't Be Booby Trapped By The Myths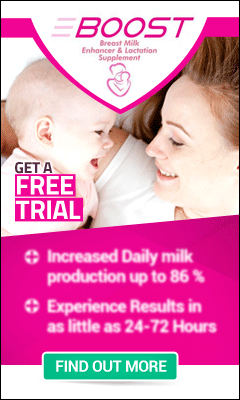 As a new parent, you will find many women who will tell you that they "couldn't" breastfeed and it is usually for one of the reasons listed above. These new moms didn't have the information or support that they needed to breastfeed successfully. Do yourself a favor and don't doubt yourself, find reliable support and help if you feel you have a true breastfeeding problem, including actual low milk supply, which is not for one of the reasons listed above, seek help from a lactation consultant who will usually recommend various natural remedies for increasing supply or who may refer you to a doctor for medical assistance in increasing your supply. Very rarely, a medical condition may exist in you or your baby leading to a true low supply, but this is uncommon. Most women can produce enough milk to breastfeed successfully. After all, one of the reasons we have two breasts is so we can feed two babies. Happy Breastfeeding!