Can I breastfeed with implants? Frequently asked questions and answers to moms' concern on breastfeeding after breast augmentation.
For whatever reason, you had breast augmentation surgery in the past. At the time, you may not have even considered a nursing baby in your future. But now that you're pregnant or holding your baby in your arms, you are concerned about how your implants might affect the nursing experience. Answers to the most common questions will help you conquer your fears and put your mind at ease.
1. Will my implants affect the quality of my milk?
Whether silicone or saline, your implants are contained and it's rare for them to leak. Because of the history of lawsuits involving silicone implants, you may worry that the chemicals may leak into your milk and jeopardize the health of your baby. Research shows the amount of silicon in breastmilk would not be enough to affect a baby. In fact, much more is present in formula and cow's milk, and even in medications typically used for babies (like Mylicon drops for gassiness).
2. Will I be able to make enough milk?
Many mothers with a history of breast surgery (including augmentation) are able to make some, if not all, of the milk their babies need. You can start by asking yourself the following questions:
• Why was the surgery done?
If you had surgery because your breasts were abnormally shaped or widely spaced, then you may have less glandular tissue than is normal, which could be a problem for breastfeeding whether or not you had the implants placed.
• Where is the implant placed?
Your implant is either underneath the chest muscle, or between the muscle and the glandular tissue. Your implant may reduce sensitivity in your breast and nipple overall, and restrict milk flow, especially if it was placed on top of the muscle underneath the glandular tissue.
• How was the surgery done?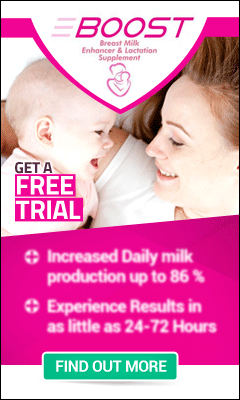 If your nerves were severed, your body may not respond in the same way it would otherwise. When the nerves under the areola are stimulated, the brain gets signals to release hormones for milk production and distribution. If, during surgery, an incision was made around your areola, especially on the lower, outer side, these signals to your brain may not happen, and milk production will be low. Sometimes re-innervation does occur – especially if it has been many years between your surgery and lactation.
Also, many of your milk ducts may have been severed when your surgery was done. These ducts may regrow. But they may also be closed by scar tissue making milk transfer impossible, and milk stasis and mastitis more likely.
Even knowing the answers to these questions, it may be that you just need to wait and see what happens once your baby is born. Between 50% and 70% of mothers with a history of breast augmentation have insufficient lactation and their babies need to be supplemented.
3. How would I know if my baby is getting enough milk?
Newborn babies need to nurse eight to twelve times per day. These feedings may be sporadic, and may sometimes be very closely spaced (called cluster feeding). You should hear many swallows as your baby nurses, and he should be content between feedings. In addition, your breasts should feel slightly full between feedings, and softer afterwards.
The best way to know if a baby is getting enough – implants or not – is to count wet and dirty diapers, and to track baby's weight gain.
During the first week your baby may not have many wet diapers (one pee on day one, two pees on day two, etc.), but by the end of the first week your baby should have 6 or more really wet diapers each day.
As far bowel movements, once your milk comes in, your baby should have 3 or more yellow, seedy stools (about the size of a US quarter or larger) each day.
Your baby's healthcare provider will keep track of your baby's weight. Often babies lose a bit of their birth weight in the first couple of days, and then begin gaining again. Normal weight gain for a breastfeeding newborn is about four to seven ounces per week.
If you think that your baby isn't getting enough milk, you may need to supplement. You can use your own breastmilk, or you may choose to supplement with formula. You might want to consider an at-breast supplementer (such as the Medela Supplemental Nursing System), or you might consider cup feeding. If you choose to use a bottle for supplements, you might want to make it as much like breastfeeding as possible.
4. Will breastfeeding be painful for me since I've had surgery?
Engorgement is common when your milk comes in whether or not you have had breast surgery. If you have lasting engorgement, the problem when you have implants is that it's difficult to sort out whether the mastitis is from poor milk transfer or infrequent feeding, or if it's related to severed nerves and ducts. Working with a lactation consultant can be essential in this case.
Vaospasm, which happens when the nipple is compressed and blanched and then painfully refills with blood seems more common when a mother has had breast surgery. If this type of pain happens for you, heat or warmth will provide immediate relief, but working with someone knowledgeable about breastfeeding is essential. This problem can also happen with poor latch and anatomical variations in a baby's mouth, so it's important to have a lactation consultant evaluate your baby and a feeding session to help determine the cause of your nipple pain.
Scar tissue may cause pain when nursing. Other problems that a mother with implants should watch for include excessive milk production and milk-filled cysts. If you notice either of these issues, you should speak with a lactation consultant or your healthcare provider.
5. Will breastfeeding cause my (expensive) augmented breasts to sag?
Whether or not you are going to breastfeed, when you're pregnant your body changes so that can happen. It's these pregnancy related changes that will cause your breast shape to change. The good news is that your breasts will likely return to their pre-pregnancy size once your baby is weaned.
6. How can I increase my breast milk supply?
The amount of milk you make is based on how much and how often milk is removed from the breast (this is true whether you have implants or not). You can optimize your milk production by nursing as often as possible in the early weeks – this is when your body sets the stage for milk production long-term. If you experience a dip in supply, pumping more milk with a breast pump is the best way to increase production.
With that being said, methods to increase milk typically need to be tailored to the individual cause of low supply.
Is it because of your incision or implant? Then supplementation may be necessary while other methods are employed to maximize the amount of milk you are able to provide.
Is it a breastfeeding management issue? Then nursing more often may help.
Is it related to baby's weak suck? Then you may need to work on getting the best latch while you have the baby assessed for any health issues.
** Click here to effectively boost your daily breast milk production by 86% in as fast as 24-72 hours.
7. Who should I contact if I am having issues with breastfeeding?
A peer counselor (such as a La Leche League Leader ) can help with common questions about breastfeeding management. She may not have the technical knowledge, though, to assist with more complex issues.
A lactation consultant with experience helping moms with a history of breast surgery is an important member of your helping team when you are experiencing with problems of breastfeeding after any augmentation mammoplasty. Be sure to ask her if she has helped other mothers with breast implants so you can be sure you're getting the type of support you need. You can find a lactation consultant in your area by visiting www.ilca.org.
While professional support is important for the technical issues you might experience, online forums can be just as central for social support. Sometimes other mothers who have gone through the same struggles as you will be the best source of encouragement and practical tips. A website for moms who have gone through a variety of breast surgeries, www.bfar.org, is a good starting point. Along with evidence-based information, they offer user forums to ask questions and get encouragement.
With any breast surgery, it is possible that you won't be able to make a full supply of milk for your baby. But you'll never know unless you try. Setting goals for yourself may help, as will defining for yourself what it will take for you to feel successful at nursing your baby. Incremental goals and a personal definition of success will empower you to have a positive breastfeeding experience and to enjoy your baby.
Video Testimonial
Mommy Kelsey shares her breast augmentation story as well as her experience on breastfeeding with breast implants.